Wallpaper Dino
RB224
€12,98
/m2
(

€74,00

/roll

)
€12,98
/m2
(

€74,00

/roll

)
4 x 50cm x 285cm
150 grams of ultra-strong vinyl wallpaper
1 roll consists of 4 lanes of 50 cm by 285 cm high. The total width is therefore 2 meters
What our customers say
Klantenreviews
Schrijf een review
Stel een vraag
Super mooi!
Super mooi behang. Stevig en werkt prettig door de knipstroken.
03-29-2022
Ornella B.

France
Super
Je suis ravis de mon achat. Le papier peint est de très bonne qualité aucun plis lors de la pose. Je recommande
04-19-2021
Janique G.

Netherlands
Dino rise roomblush
Heel mooi behang, fijne kwaliteit om mee te werken en gemakkelijk aan te brengen. Het geeft meteen een hele andere sfeer!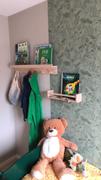 Calculate how many rolls you need.
Our rolls have a height of 2.85 m. Insert the width that needs to be covered.
Quantity required: ... rolls
When you click 'Edit quantity', we will enter the correct quantity.
You cannot add this product to your shopping cart
You already have products of another type in your shopping cart. You cannot order samples and rolls at the same time.
Maximum number of samples
You may order a maximum of 4 samples at the time. By adding this product to your shopping cart, you exceed the maximum number of samples allowed (a sample package contains 4 samples).
Your shopping cart contains already a sample package
You cannot order a sample package at the same time as other products